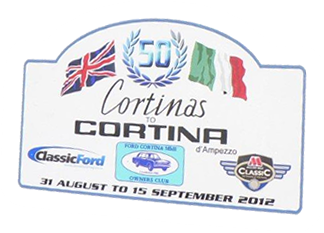 Cortinas to Cortina : 2012 sees the 50th anniversary of the launch of the MK1 Cortina.
The name came from the Italian Ski resort and the 1960 Winter Olympic Games Venue Cortina D' Ampezzo. Nestled beneath the Dolomite Mountains, this very picturesque town was our host when we celebrated the 30th and 40th anniversaries. But this trip was to be the best yet.
Our journey began with an invite by Ford to visit their Heritage work shop and museum at Dagenham - the birthplace of the Cortina. We couldn't pick a better place to start!
Harry Calton who was Ford's Press officer at the time gave a very interesting talk about how the Cortina came about and its success, ensuring it became the most important model ever made by the Ford Motor Company!
Alexei Sayle was also there filming a piece about the life of the Ford Cortina for BBC 1's 'The One Show'. This was aired on Wednesday the 19th and included us setting off.
24 Cortina's ranging from MK1 to MK5 took part in a road trip that would turn out to be the best driving experience most of us would ever have.
The adventure began on Friday 31st of August took us through France to Reims, Dijon and then Montreaux in Switzerland. Via Varese and Lake Garda in Italy, we made our way to Cortina D'Ampezzo enjoying 3 wonderful days in the famous Italian resort.
Arriving at Cortina we were thrilled to be given a warm reception by staff the at Hotel Cortina and towns folk who welcomed us again to their beautiful town. From Cortina we drove the famous and awesome Stelvio Pass.
Further stopovers followed in Davos Switzerland and Weingarten Germany, Hockenheim and Nurgurgring, briefly driving through Austria and Belgium.
In what can only be described as 'Petrol Head heaven' we visited most of Europe's iconic racing circuits. We were guests of the Marussia F1 team preparing for the Italian Grand Prix at Monza, our Cortinas enjoyed laps around the Hockenheimring and the Nordschleife at Nurburgring and on the final day we called into Spa-Francorchamps to watch racing there too.
I hope you enjoy looking at my photo's and video that tell the story of a very memorable and unforgettable trip.
A trip that celebrated the 50th anniversary of the iconic Ford Cortina!
Visit my YouTube channel to see the videos of the trip.
| | |
| --- | --- |
| | |
| | |
Credits and thanks
For me, this trip was more enjoyable compared with the other two that I have participated in. There are several reasons, but not wishing to take anything from the other two, the driving this time was simply brilliant.
As with all organised trips there is someone thatís done the work, in this case an awful lot. Itís taken four Cortina enthusiasts some eighteen months to sort and organise our trip.
I would like to extend my grateful thanks to Graham Orchard, his girlfriend Clair Palmer and Pete and Lynn Pasco for the time and dedication they bestowed to make it all happen. To Millers Oils, who along with myself negotiated to supply VSPe Power plus additives to all in our group. To Pete Cooper my navigator who sometimes couldnít quite believe that he was travelling in a concours winning car!! To Rob Weston who did a sterling job navigating our way not only to our hotels, but to the best and most exciting roads we will probable ever drive on, his dad Steve for driving the lead car (his MK1 more often than not). My fellow convoy participants Graham Brown MK5 XR6, Richard Sloman MK1 GT and Pete Crompton Mk3 GXL. They were all great company and their friendship will remain for a long time to come. To all the other participants on the trip that made it so enjoyable.
Finally to my Savage CAN 187H which didnít miss a beat and purred all the way there and all the way back. To say I was pleased with her behaviour would be an understatement. I have never had so much fun driving my Savage, perhaps my reward for the all my time and money lavished on her!!
Travel Facts
Miles driven: 2,492
Fuel used: 92 Gallons (418.24 litres)
Fuel cost: £687.00
Average MPG: 27
Miles abroad before hitting first European pot hole: 1,900 Unbelievable but true (near to German/Belgium border!)